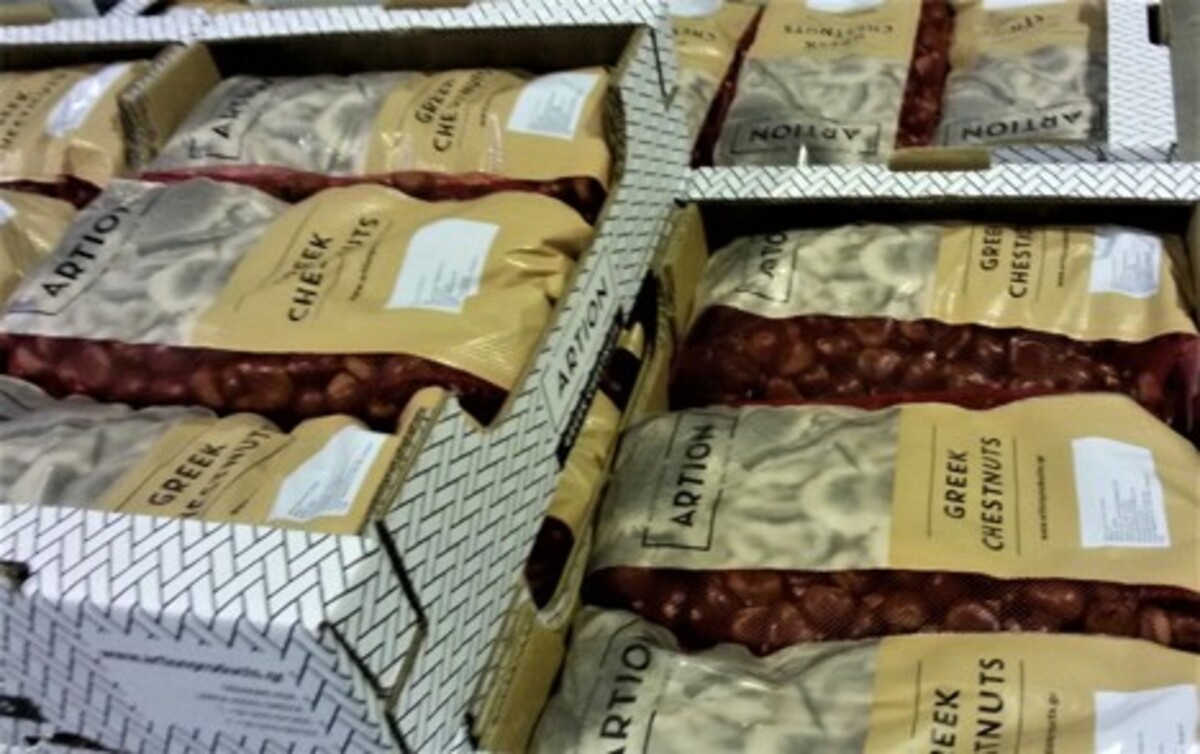 AVNP 450 by GNA "ideal for the packaging of chestnuts"
According to Themistoklis Pantelidis, President and CEO of Pantelidis Industrial Weighing & Automations based in Thessaloniki (Greece), "a standardized production, packaging and labelling by the same machine, speed and precision, reduced costs, flexibility in producing bags of different size and type (you only need to switch the format and width of the reel), excellent design and sturdiness are just some of the advantages that come with using vertical packaging machine AVNP 450 by GNA."
"Our company specializes in weighing and packaging machines and we have been working in the automation sector for 70 years. The integration of GNA machinery in our lines, including dosing and weighing units, offers complete solutions for the production phase. They are easily adaptable and customizable and we have been collaborating with GNA on a technical and commercial level for years."
As for packaging machine AVNP 450, GNA managers report that "it is the perfect system for packaging in vertbags, but it works with other machines as well. It can be combined with any weighing system and it can package different types of products. The frame is made of stainless steel and it can reach a speed of 80 cycles/minute depending on the characteristics of the product and packaging material and on the size of bags."
"It also features a state-of-the-art programmable logic controller and a touch-screen panel to create production recipes in an easy and intuitive way. Three brushless servo-motors make is silent and guarantee high-precision when it comes to bag length and transversal sealing."
One of the clients of Pantelidis Industrial Weighing & Automations uses AVNP 450 for chestnuts. "The machine is ideal to package these fruits. In the case of our client, the packager was customized to use extruded nets instead of the traditional films, creating net bags with a square bottom combined with film on both sides and pierced to facilitate lifting."

"AVNP 450 can use all of the most common films: PE, PP, laminated films, PE+ Net, PP+ Net, paper. In the case of chestnuts, the film used is a PE extruded net with film on both sides."
In a period of crisis such as this one, characterized by general price hikes and lack of labor, the reliability of GNA machines is important. "Packager AVNP 450 boasts a good ratio between quality and purchase cost. In addition, the spare parts needed are minimum in order to maintain the machine in perfect condition for many years."
Pantelidis also recommends the machine because "it is suitable for users with no particular technical knowledge. It adapts to various packaging types alone and it can be combined with various dosing or weighing units (multi-head, linear, counters and others)."
Additional specifics on vertical packaging machine AVNP 450
"The forming tube can be changed rapidly to make operations easier. The panel inside the machine reduces its dimension and makes it easier to sanitize. AVNP 450 features two reel shafts for films with a spindle measuring 76 or 150 mm. It is possible to switch between PP, PE, bags with (carry-bags) or without handles in PP+Net or PE+Net simply by changing the sealing bars."
"In addition, we have come up with a communication protocol to make this machine compatible with the unloading synchronisms of the most common weighing systems available on the market."